Take advantage of new customer testimonials, test results and product reviews to make your business case for XDR.
Assuta Medical Center CISO Tamir Ronen explains how Cortex XDR helped his team reduce detection and response time without increasing staff.
Fragmented visibility – a byproduct of siloed security tools – is a major problem for security teams. The obvious solution is to simplify your security operations with fewer tools that offer broader capabilities – such as XDR, which delivers detection and response across endpoints, network and cloud assets. But this is easier said than done: organizations often have preset budgets for specific categories of tools. 
Convincing multiple stakeholders to rethink their investment strategy can be difficult when you're talking about a category-defining solution. It can be much easier to purchase a narrowly focused tool than to build a business case for an emerging technology.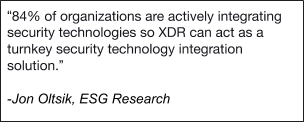 Well, we're happy to share that XDR (and Cortex XDR in particular) is now endorsed by customers, analysts and testing firms. Over the last year, the XDR market has exploded with new vendors, been praised by industry analysts, and has improved the efficacy of many security operations teams. And to help you make the business case for why Cortex XDR should be part of your strategy, we've compiled lots of these examples into a new industry validation webpage, including:
Third-party testing: Hands-on testing by NSS Labs and MITRE have seen Cortex XDR regularly outperform the industry heavyweights in multiple product categories, including endpoint protection (EPP) and endpoint detection and response (EDR), proving that a tool can be best-of-breed and a suite solution at the same time. 
Industry expert analysis: SANS Institute offered an in-depth review of Cortex XDR, calling it an "extremely powerful" and "holistic" platform; Ovum profiled Cortex XDR and its ability to detect threats across the entire enterprise; and XDR headlined Gartner's list of top security and risk management trends for 2020. 

Customer testimonials: Customers from all different industries, geographies and company sizes love Cortex XDR because it is simplifying their security operations, increasing visibility and reducing noise. Hear how Cortex XDR helps reduce alert volumes by 98% and accelerates investigations by 8x!
The Future of Detection and Response is XDR
Next time you're considering an investment in EDR, EPP, network traffic analysis (NTA), or user behavior analytics (UBA), consider up-leveling your capabilities with Cortex XDR for more efficient, holistic and scalable security operations. The proof that it works will keep rolling in – and we'll keep updating this industry validation page to help support your business case.