Palo Alto Networks is excited to announce that GlobalProtect is included as the top Most Popular Network-Centric Security Tool in Okta's "Businesses at Work 2021 Report". The popular report explores the applications and services that are helping run businesses today.
GlobalProtect provides customers of Palo Alto Networks cloud-delivered Prisma Access and ML-powered Next-Generation Firewall (NGFW) products with secure remote access for their remote users from anywhere in the world. Together with Okta, Palo Alto Networks enables identity based authentication and secure remote access for mobile users at global scale.
From the outset of the COVID pandemic, GlobalProtect saw incredible demand as organizations scrambled to find and deploy secure remote access solutions for their employees and contractors, all of which fled the office for remote work in early 2020. As a case in point, Okta's supplemental April report showed GlobalProtect's unique user rate climbed to a whopping 230% compared to 28 days prior. So it was no surprise that GlobalProtect has now claimed a spot as one of the Okta Integration Network's (OIN) most downloaded apps overall, seeing 50% growth in user adoption since February 2020. To be sure, demand for secure remote access was in high demand long before COVID hit. According to Okta's report this month, GlobalProtect has seen 1983% growth in user adoption over the past three years.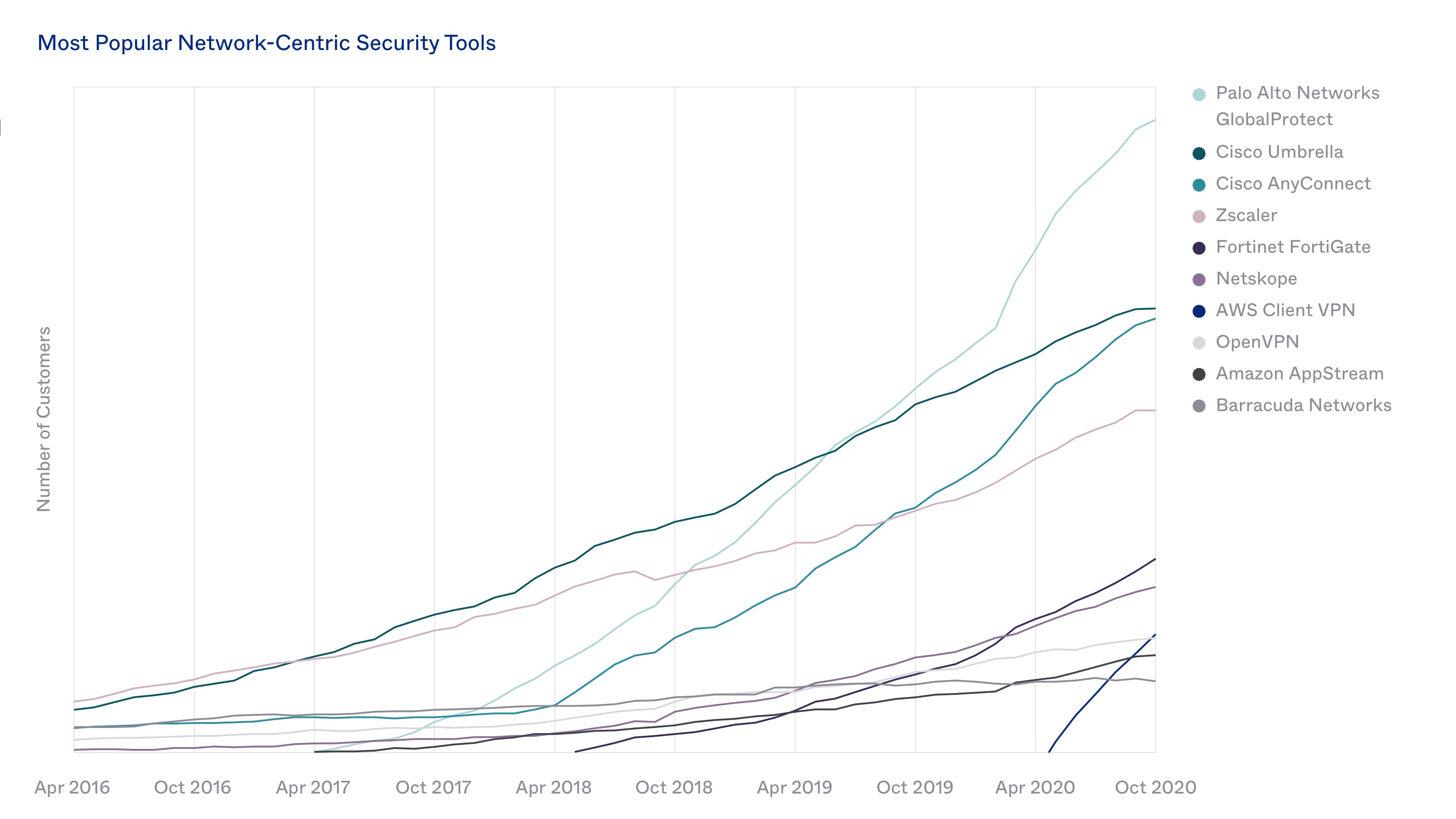 As organizations begin to turn their attention to long term infrastructure planning post-COVID, the question for IT and security teams is what the future of the office will look like. Fortunately for organizations already using GlobalProtect, Prisma Access provides the solution. Prisma Access is Palo Alto Networks cloud-delivered security platform that provides organizations with all of the networking and security capabilities they need in a single, global service edge. It also includes modular and customizable capabilities, including anti-malware, intrusion and credential abuse detection, Firewall-as-a-Service (FWaaS), data loss prevention and much more. Prisma Access also features native zero trust network access (ZTNA) capabilities to provide users with access to specific applications and services based on their identity.
No one knows with absolute certainty what the future of work will look like. But whatever that may be, it will demand flexibility. Through a uniform, cloud-based infrastructure that delivers industry-leading uptime and connectivity SLAs, Prisma Access's global network of over 100 locations across 76 countries enables organizations to scale remote users elastically as demands change. Whether users go back to the office or stay remote, Prisma Access can manage it.
Native networking and security capabilities also give customers the option of migrating away from legacy firewalls, hardware routing and networking for their branches. So although the future may look uncertain, Prisma Access has you covered no matter what it holds in store.
Read Okta's "Businesses at Work 2021 Report".